We cordially invite you to f*ck with us.
Premium condoms and lubes for pro-level performance and pleasure.
Shop Now
Meet the brand awarded "Best Real-Feel Condom" by
Condoms, Lubricants & Body Wipes
Condoms that spare you the awkward drugstore experience. Lubricants to maximize pleasure for you and your partner. Super-soft, cleansing body wipes infused with gentle, natural ingredients. It's time to up your game.
Don't know where to begin? Try...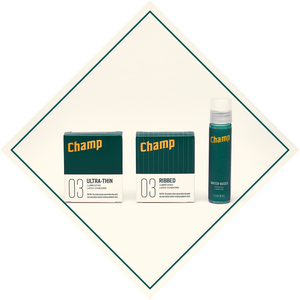 Try three ultra-thin condoms, three ribbed condoms, and one trial-size bottle of water-based lubricant. No commitments.
Shop Now
A better way to do it.
Here's how we're changing the game.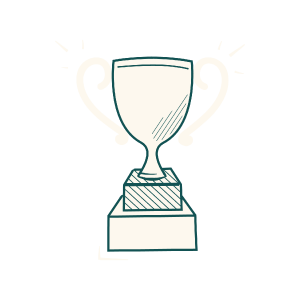 Trust
We partner with the world's best factories to create condoms and lubes you can rely on.
Pleasure
Our premium condoms and lubricants are designed to enhance your experience and maximize pleasure for you and your partner.
Safety
Condoms to reduce the chance of pregnancy, HIV, and STIs. Medical-grade lubricant to safely increase pleasure.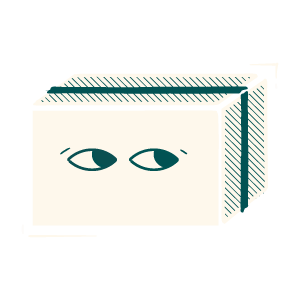 Privacy & Convenience
No awkward in-person experiences for you. We deliver discreetly to save you time and $$$.
"No one asked the folks at Champ to make condoms that look like they fell out of Robert Redford's pocket, but we're sure glad they did."
"Best textured condom. These condoms are textured with bumps and ridges on the outer surface to easily amp up the stimulation on your partner's end of the equation – that's what you call a win-win."
"Best real-feel condom. These condoms offer a barely-there feel and are as close to skin-on-skin as you can get."
"Champ condoms are comfortable and stretchy... and come fresh from the company's distribution center to the consumer, eliminating the risk of damaged or expired goods."
"All of their lubes are hypoallergenic, free of parabens and glycerin, and great for playing solo or with a partner. Whatever his style, this brand fits handsomely into any discerning man's personal care routine."
"Best eco-friendly subscription box that will make your life more convenient – Champ works to reduce plastic waste by selling all-natural rubber latex condoms... and sustainable body wipes created with bamboo."
"These luxe condoms are truly the best."
"If forgetfulness is a common obstacle in your relationship with condoms, Champ condoms can help. The company lets you order condoms as a one-time purchase or as a subscription at a reduced price."
"Champ is great for anyone who hates standing in the condom or lube aisle, hemming and hawing over the best option. Plus, if you love the product, you can subscribe."
"High-quality condoms for your protection."
"Champ is such a good understated boyfriend brand. It's slightly gendered, but not in an aggressive or offensive way. Champ knows its market and is speaking to them."
"Champ is a newcomer in the sexual health world, and it's one we wish we had sooner. In addition to their top-notch (and discreet!) condoms, the brand offers a water-based lubricant made just for sensitive skin. It's ultra soft, and best of all, it's non-staining."
"At a time when we almost gave up on sex completely, Champ came figuratively knocking at our door. The entire brand is sex positive, comes with elevated – can we say tasteful?! – packaging and feels like a modern day grooming brand."
"Champ not only wants to do away with the awkwardness that comes with buying contraceptives, it hopes to reposition condoms as an aspirational health and wellness staple."

"It's the 21st century….and it's about time there was a new way to buy condoms and lubes without the Walk of Shame. Meet Champ, your new MVP."
"Buying condoms can be pretty cringey. Champ wants to change that."
"Modern Champ offers ultra-thin and ribbed condoms, water- and silicone-based lubricant in some pretty cool vintage baseball-inspired packaging. Play ball."
"Champ is changing the game by helping those who are ready to bench the drugstore when it comes to buying sexual wellness products."
Hear from our satisfied customers.
Come prepared.
We're advocates of preparation. Believers in readiness. We champion the idea that planning ahead with condoms and lube is something to be proud of—a sign you know what gear to get to make playing more pleasurable for everyone.
Shop Now
Mini FAQ
Frequently Asked Questions